Where does your income go? Do you overspend? Feel like your financial goals are out of reach?
You're not alone. But there is an answer…
Expert Cashflow Solutions has already helped more than 1000 happy clients to secure their financial future.
Our Revolutionary Cashflow Solutions Help you to...
Eliminate debt
Save for a home deposit
Free up money to enhance your lifestyle
Save for your retirement
Secure your family's financial future
Expert Cash flow Solutions has a 100% success rate
You receive expert advice from a highly experienced professional
You make a commitment
We agree to / set the ground rules upfront
You're able to see your savings 24/7
You can withdraw your money whenever you want
Imagine how it would feel to successfully achieve your financial goals, to have an emergency fund in place and to finally pay off (and stop using) your credit card. Our clients tell us they now sleep easier, feel less stressed and are more relaxed, knowing that everything is covered for today – and tomorrow.
No matter whether you need help with your personal or business budget – we provide all the guidance you need to produce positive outcomes.
Are you a financial professional?
We can help your clients save! We proudly partner with industry professionals such as accountants, financial planners and mortgage brokers to jointly assist clients in achieving outstanding results.
For your clients who need a budget that actually works!
Financial Planners
Do your clients:
Need to increase their annual surplus to reach their financial goals
Need personal insurances but have insufficient cashflow to support this
Want to increase their cashflow to invest or secure their future
Mortgage Brokers
Do you have clients who:
Want to buy their first home but don't have enough deposit saved
Are looking to consolidate debts
Want to reduce or eliminate "bad debt"
Accountants and Bookkeepers
Perhaps your clients:
Have a business reporting a good profit, but they complain about not having enough money
Have trouble making their BAS/IAS payments easily or on time
Become distressed when they are advised of their business or personal income tax bill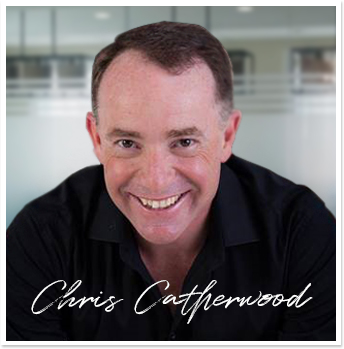 Chris Catherwood
Managing Director
With a career spanning over 30 years in accounting and financial planning Chris is your budgeting expert. He sees the finer details, thinks about the consequences and is honest and straightforward in his professional advice, whether it's good or bad. Importantly, Chris will not take on a client unless he's confident he will be able to provide value-for-money to them.
Chris says he loves helping clients achieve their goals, watching them buy their first home or retire in comfort. It's about seeing people improve their lives. Most importantly of all, he recognises that we are all human, he has a healthy sense of humour and is lots of fun to work with.
TESTIMONIAL
Working with Chris has completely changed our lives. We have always been ok with money but we are now saving so much more than we used to. He also completely takes away all the stress of paying bills which was an area which has caused lots of issues in our lives in the past. We are extremely busy running 2 businesses and parenting 3 children and having Chris on our team makes it possible. We are confident our personal finances are always taken care automatically. Plus he makes it fun…. which is hard thing to do with budgets!! We strongly encourage you to give it a go too.
Want to know more?
Find out how we can help you achieve your financial goals and make those dreams come true. Call or complete the form below to arrange an obligation-free consultation today.
Expert Cashflow Solutions – We specialise in budgets … that actually work!